PEER GYNT RECHARGED
Based on Peer Gynt by Henrik Ibsen
A new version by Terje Tveit
Translated, Directed and Designed by Terje Tveit
Set Design: Yana Valcheva
Lighting Design: Christopher Nairne
Sound Design: Jack Harris
Costumes: Lucia Conejero Rodilla
Stage Manager: Sorrell Moore
Production Assistant: Rosalind Stockwell
Casting: Roza Grigorova
Producer (for LIT): Berislav Juraic
28-31 March 2012
Ibsen Stage Company returns to Riverside Studios for the third time with a brand new version of Ibsen's epic verse drama Peer Gynt.
Set in a fictitious town of gangsters, forgery, beautiful women and the mysterious singer Miss Kabaret Button-Moulder, the story follows Peer Gynt's adventures into a corrupted underworld in which loyalty is the only mean to survival.
Video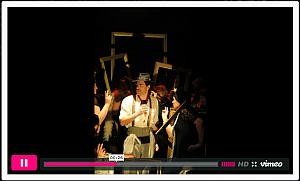 Image montage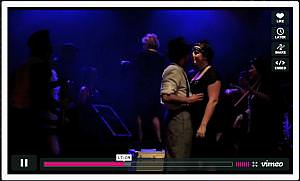 Excerpts
Videos courtesy of Peter Davies.
Cast
Annamaria Adams
David Bevan
Lynette Creane
Mairead Cumiskey
Cleo Felstead
Ben Goffe
Paul Kendrick
Filip Krenus
Zoe Land
Rob Langston
Jenni Lea-Jones
Andrea Miller
Simeon Oakes
Juliet Prew
Patrick West-Oram
Reviews
" ... I was imaginatively captured and spellbound by the acting and staging of Ibsen Stage Company's adaptation of Ibsen's epic drama Peer Gynt. Both intellectually challenged and emotionally moved I was awestruck by Terje Tveit's translation of Norwegian into English rhyming couplets, which defeat all but a handful of poets in our rather rhyme-deficient language. Peer's existential angst — really at the heart of the work — was brilliantly displayed against a background of a society itself in existential confusion, and living for often squalid dissipation rather than facing life's truths, Prohibition Chicago. Again, the insistence on framing the successive scenes brought out the difficulty we all face in giving shape to what befalls us in life. So many people will be interested and held by Peer Gynt Recharged."

Paul Binding - Critic and author, cultural historian
" ... Ibsen's dramatic poem, which at one point he doubted could be staged, is a gift for the imagination. Yet in Terje Tveit's expressionistic concept, Peer Gynt Recharged at the Riverside Studios, Hammersmith, this doubt is shredded. Tveit has swapped Peer's pastoral world for 1920s' American gangland. The Gold Pim is headed by Miss Kabaret Button-Moulder, a sultry cabaret singer, who calls Peer to account for his sins. ... Tveit's production is a surfeit of good things: each theatrical element rich in calorific value. The striking lighting design by Christopher Nairne resembles the tone and angles of a graphic novel, the well-drilled, expressionistic acting style to the compressed, heightened rhyming scheme of Tveit's verse; each was slick and dazzled in its own right. ... Various sized picture frames dominate: a theatrical device to indicate location, or emphasise character or emotion. The convention is neat. The portable frames allow the action, which at times is conscious and unconscious, to move efficiently from section to section. There are moments when the groupings and tableau present breath taking visions of hell and suffering. The ensemble company of fifteen adapt well to the episodic, almost filmic, style. The action is interspersed with choreographed musical numbers, such as Broadway Baby and Chicago and features the Charleston and the Cake Walk. These add to the production's overall decadent style and energy. Simeon Oakes as Peer Gynt looks the part and has a Pan/Puck-like demeanour. At one point he poses — 'David-like' — for a life drawing class. His nakedness emphasising the mantra I am what I am. Yet there is no place to hide. Andrea Miller and Cleo Felstead add shape and colour to Tveit's tight rhyming scheme. Yet the strength of the performance style lies with the ensemble. ... "

Stage Won
" ... With his production of Peer Gynt Recharged Terje Tveit has finally been able to give full expression to his directorial and theatrical ambition. With a cast able to respond to his demands he has produced a reworking of the play that is modern, colourful and taut, but still true to the central idea. No longer starting his life's journey in the mountains of Norway, Peer now inhabits a world of gangsters and prostitutes. With minimal props, but excellent use made of empty picture frames, acting, design, choreography and music work together to create a performance that will convince even those who normally believe in the sanctity of the text. ... "

Dr Marie Wells