RECORDING HEDDA
Based on Hedda Gabler by Henrik Ibsen
A new version by Terje Tveit
Translated, Designed and Directed by Terje Tveit
Music by Kaja Bjørntvedt
Dramturg: Roza Grigorova
Lighting Design: Christopher Nairne
Costumes: Yana Valcheva
Technical Assistant: Jack Harris
Marketing and Production Assistant: Hilde Syversen
Assistant Director and Stage Manager: Ali Yalgin
Produced by Ibsen Stage Company and New Diorama Theatre Supported by the Royal Norwegian Embassy, Norwegian Composers' Fund, Composer's Remuneration Fund New Diorama Emerging Companies Fund.
11 - 28 September, 2013.
The production draws on Ibsen's original play and is a collaborative project between composer Kaja Bjørntvedt and director Terje Tveit exploring the dynamic between text and sound.
Synposis and Concept
Seven people meet in a recording studio to record Tesman's new play. This new take on the old classic Hedda Gabler gives a two-way mirror look at the psychological forces at work in a woman in her late thirties whose, fictional character takes on her personal life, and the decisions she has made for herself.
Five old friends – Tesman, his wife G, their old friend Brack, Miss Mitford and Jason – meet in a studio to make an audio-pilot of Tesman's new play, The General's Daughter. The play has been written especially for G. Debbie, a young actress that Tesman has hired, is also present.
Through Debbie, the old friends learn that Tesman's university pal, the alcoholic playwright Ebbie, is back on the scene with a new piece of work. This jeopardises not only the success of Tesman's play, but everybody's relations. The recently married Debbie reveals she has both personal and professional relations with Ebbie, and is planning to leave her husband.
The events that follow over the next forty-eight hours will force G to make irreversible decisions that will destroy everything she took for granted, including the person she trusted the most: herself. Ebbie's manuscript, 'A Table for Two Voices' will change her life forever and catapult her life into chaos.
Recording Hedda explores universal themes through text, music and movement. The play is a non-linear deconstruction of the original narrative, and does not follow Ibsen's original dialogue.
The main character is an actress whose existence is conditioned by self-assertion. In a world dismissive of age, failure and lack of professional success, her identity is, by default, tied to her actions. Juxtaposing two parallel dramas, a recording is pitched against a personal drama in which statements blur, and characters merge with their recorded alter egos.
The action is set in the round placing the audience in the intimate proximity of the actors. The set design is minimalistic and brought to the fore by the actors' physical presence. Soundscapes provide a subordinate fabric, which allows the dramatic units to be ordered with greater freedom.
Video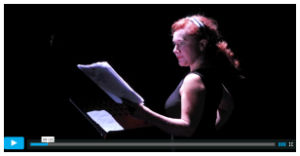 Image montage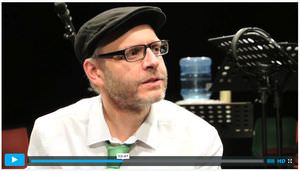 2013 Promo
Photography by Stagephoto, Peter Davies
Film footage by Media Sørlandet and Stagephoto
Cast
| | |
| --- | --- |
| Sarah Head | Hedda, an actress |
| Roseanne Lynch | Debbie, a young actress |
| Tom Fava | Jason, a studio technician |
| Matthew Hebden | Tesman, a playwright |
| Matthew Rutherford | Brack, an actor |
| Tricia Deighton | Miss Mitford, a studio assistant |
| Mark Moore | Ebbie, a playwright |
| Cleo Felstead | recorded voice |
| Stephanie Jory | recorded voice |
| Matthew Rutherford | recorded voice |
Reviews
" … Recording reveals Hedda anew. Their name suggests formal respectability but the Ibsen Stage Company is a wildcard of Ibsen productions. The playwright has the position in Norway that Shakespeare has in Britain – there are so many productions that audiences have reached a point where experiment, wisely done, brings freshness and new insights. As does Terje Tveit, with a perception which give his unconventional Ibsen revivals the revelatory power director Stephen Daldry brought to J B Priestley's An Inspector Calls. All the time the surface takes you away from what's expected, the production draws you to the play's heart. Daldry's Inspector has been around over twenty years; there are barely twenty performances of this Hedda. There's a week to go, and go anyone should who is interested in Ibsen or reinterpreted classics. Many more flashy directors have had much bigger budgets and said far less.

Previous Tveit productions have involved vivid imagery and pace. The pace is still here but with one overall image, a radio-studio where a modern cast is recording Hedda Gabler. The concentration when they speak into microphones is contrasted by the hurry as cast and crew rush in and out as events parallel the night Hedda attempts to influence magnetic artist Eilert Løvborg (here Ebbie) and succeeds only in destroying his work. Famously, Hedda becomes an irrelevance and disposes of herself as others control her or repair the damage she's done. So does G, the scornfully furious actress playing her – whom Sarah Head gives a flame-haired intensity; her eyes pierce with suppressed hate as she speaks to fellow actor Debbie over their scripts.

Kaja Bjørntvedt's score pulses and waves with quiet insistence beneath much of the action, which goes far beyond mere paralleling to re-ignite the passions easily lost in the respectability of a conventional revival. And the modern techno-solution to the dead Ebbie's lost work not only fits his experimental multi-media style entirely but provides direct evidence of how G manipulates others. It's a final revelatory moments in a production which holds the attention of an audience seated in a circle round the central action for two rapid hours. … "

Reviewsgate